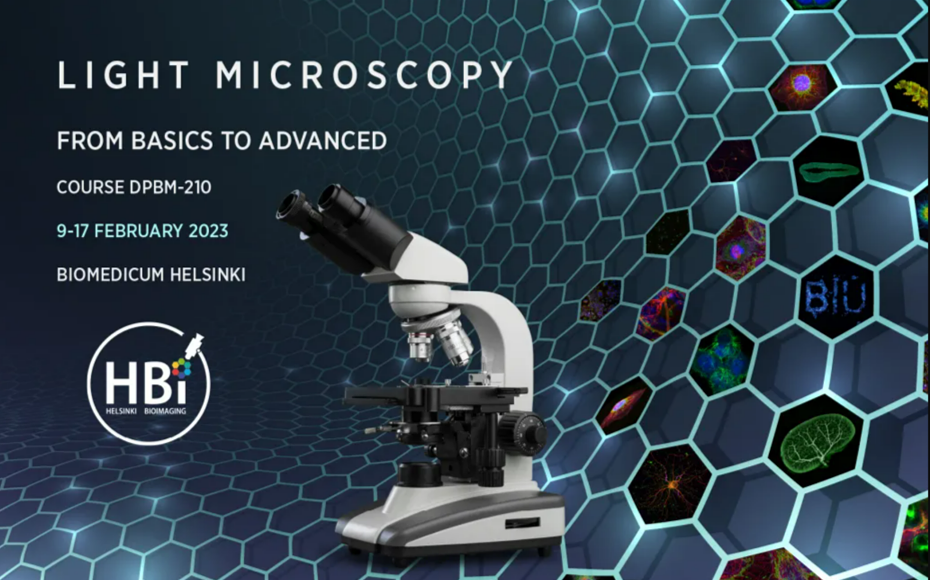 Biomedicum Imaging Unit, Helsinki BioImaging organizes "Light Microscopy: From Basics to Advanced" course in February 2023.
On-site lectures 09.02. – 10.02.2023 + demonstrations 13.02. – 17.2.2023
After completing this course the students should be able to
explain the basic principles of light microscopy and microscopic image acquisition
understand the most important steps of sample preparation for microscopy
compare and contrast transmitted light and fluorescence methods
compare and contrast widefield and optical sectioning microscopy methods
know some basic and advanced research applications for the microscopy methods covered
evaluate the suitability of covered microscopy methods for different research applications
Detailed course content can be found here: https://www.helsinki.fi/en/news/life-sciences/dpbm-210-2023
Lectures are open for everyone.
Register here by 31.01.23: https://studies.helsinki.fi/courses/cur/hy-opt-cur-2223-c1a91580-6159-4fbe-9b66-f8cc3b9492ec
When: February 9th-17th, 2023
Where: Biomedicum, Haartmaninkatu 8, Helsinki