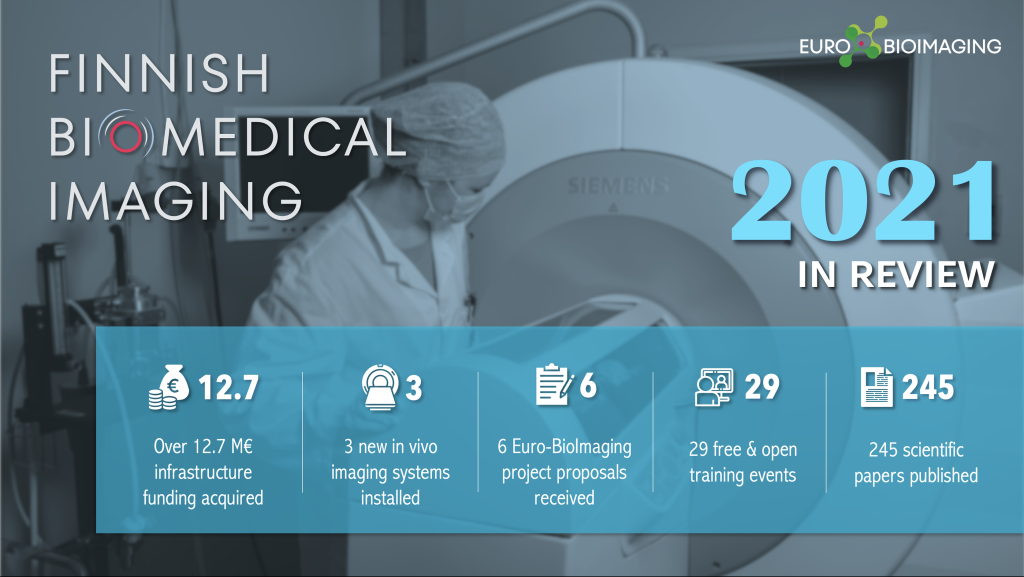 Introduction
Finnish Biomedical Imaging Node (FiBI; https://eurobioimaging.fi/FiBI/) is a distributed national research infrastructure comprising of the four leading Finnish in vivo imaging units: Turku PET Centre (TPC; www.pet.fi), Kuopio Biomedical Imaging Unit (BIU; https://uef.fi/kuopiobiu), NEUROIMAGING Research Infrastructure (NI; http://neuroimaging.fi), and Helsinki In vivo Animal Imaging Platform (HAIP; https://www2.helsinki.fi/en/infrastructures/helsinki-in-vivo-animal-imaging). FiBI was accepted as a service-providing Node of Euro-BioImaging ERIC in November 2020, making 2021 the FiBI's first operational year as a Euro-BioImaging Node.
The partner units are hosted by five universities (Aalto University, AU; University of Eastern Finland, UEF; University of Helsinki, UH; University of Turku, UTU; and Åbo Akademy University, ÅAU) and three university hospitals (Helsinki University Hospital, HUH; Kuopio University Hospital, KUH; and Turku University Hospital, TUH). The partners of FiBI have agreed on the responsibilities and division of tasks with a partnership agreement, which is currently under legal preparation. The official Service Level Agreement between Euro-BioImaging ERIC and the FiBI Node is also under preparation.
FiBI Steering Committee 2021
Chair: Professor Juhani Knuuti (UTU)
Node Manager: Tiina Saanijoki (UTU&ÅAU)
Professor Olli Gröhn (UEF)
Professor Riitta Salmelin (AU)
Associate Professor Pipsa Saharinen (UH)
Associate Professor Hanna Renvall (AU&HUH)
Adjunct Professor Mikko Kettunen (UEF)
Veikko Jousmäki (AU)
Toni Auranen (AU)
Juha Montonen (HUH)
Marja Lohela (UH)
FiBI Steering Committee has monthly meetings, where new Euro-BioImaging project proposals, funding, training events, and other topical items related to national imaging coordination and Euro-BioImaging activities are being discussed.
---
FiBI key figures 2021
6 EURO-BIOIMAGING PROJECT PROPOSALS
FiBI launched its Euro-BioImaging services in the beginning of 2021 and hosted its first Euro-BioImaging project in February 2021 in the middle of global SARS-COV-2 pandemic, only two months after the ratification of FiBI as a Euro-BioImaging Node.
Altogether FiBI received 6 project proposals during 2021, and 4 of those projects were completed during the first year of Euro-BioImaging operation.
3 NEW IMAGING SYSTEMS
Three new imaging instruments were installed at FiBI sites in 2021:
7T μPET/MRI at BIU, Kuopio (MR Solutions)
PET/CT at TPC, Turku (Siemens Biograph Vision)
MEG at NI, Aalto Espoo (MEGIN, in the picture)
12.7 M€ INFRASTRUCTURE FUNDING
FiBI was granted in total € 12.732.530 infrastructure funding in 2021 from the Academy of Finland, Jane and Aatos Erkko Foundation, and host organizations.
Find more information about the FIRI funding granted by Academy of Finland from the article here: https://www.eurobioimaging.eu/news/congratulations-finnish-biomedical-imaging-node-
245 SCIENTIFIC PAPERS
FiBI units contributed to altogether 245 peer-reviewed publications and 16 doctoral theses in 2021.

Highlighted publications:
Casarotto PC, Girych M, Fred SM, Kovaleva V, Moliner R, Enkavi G, Biojone C, Cannarozzo C, Sahu MP, Kaurinkoski K, Brunello CA, Steinzeig A, Winkel F, Patil S, Vestring S, Serchov T, Diniz CRAF, Laukkanen L, Cardon I, Antila H, Rog T, Piepponen TP, Bramham CR, Normann C, Lauri SE, Saarma M, Vattulainen I, Castrén E. Antidepressant drugs act by directly binding to TRKB neurotrophin receptors. Cell. 2021;184(5):1299-1313.e19. doi:10.1016/j.cell.2021.01.034.
Laurila S, Sun L, Lahesmaa M, Schnabl K, Laitinen K, Klén R, Li Y, Balaz M, Wolfrum C, Steiger K, Niemi T, Taittonen M, U-Din M, Välikangas T, Elo LL, Eskola O, Kirjavainen AK, Nummenmaa L, Virtanen KA, Klingenspor M, Nuutila P. Secretin activates brown fat and induces satiation. Nat Metab. 2021; 3(6):798-809. doi: 10.1038/s42255-021-00409-4.
Viitanen R, Moisio O, Lankinen P, Li XG, Koivumäki M, Suilamo S, Tolvanen T, Taimen K, Mali M, Kohonen I, Koskivirta I, Oikonen V, Virtanen H, Santalahti K, Autio A, Saraste A, Pirilä L, Nuutila P, Knuuti J, Jalkanen S, Roivainen A. First-in-Humans Study of 68Ga-DOTA-Siglec-9, a PET Ligand Targeting Vascular Adhesion Protein 1. J Nucl Med. 2021;62(4):577-583. doi: 10.2967/jnumed.120.250696.
Stenroos P, Pirttimäki T, Paasonen J, Paasonen E, Salo RA, Koivisto H, Natunen T, Mäkinen P, Kuulasmaa T, Hiltunen M, Tanila H, Gröhn O. Isoflurane affects brain functional connectivity in rats 1 month after exposure. Neuroimage. 2021;234:117987. doi:10.1016/j.neuroimage.2021.117987.
Ala-Salomäki H, Kujala J, Liljeström M, Salmelin R. Picture naming yields highly consistent cortical activation patterns: Test-retest reliability of magnetoencephalography recordings. Neuroimage. 2021;227:117651. doi: 10.1016/j.neuroimage.2020.117651.
29 TRAINING EVENTS
FiBI is strongly involved in training and education, offering many high-quality training events, courses, and seminars for core facility staff and researchers of all levels. In 2021, FiBI sites provided three imaging courses free of charge (PET Basics, TPC; Principles And Applications of Neuroimaging Data Analysis, TPC; In Vivo Animal Imaging: Methods and Applications, HAIP), two dedicated FiBI seminars and 24 open scientific seminars. Altogether the training events have gathered more than 1200 participants. In addition, the steering group members have also given invited talks in various events, e.g. in Global Bioimaging Seminar Series and the 2nd ISMRM Nordic Chapter Virtual Symposium.
---
Euro-BioImaging community building activities
MEG proof-of-concept studies
MEG is currently in the new Euro-BioImaging technology pipeline. MEG was successfully showcased by Aalto NeuroImaging in 2019-2020 (1st step in the new technology pipeline) and now MEG is included in the first available round of Proof-of-Concept studies (2st step). If the Proof-of-Concept studies are successful, the technology is then included into the Euro-BioImaging portfolio permanently. The MEG proof-of-concept studies are carried out in the FiBI Node which is currently the only Euro-BioImaging Node with open access MEG technology.
Panel of Nodes
Two Panel of Nodes meetings were organized in 2021 with the aim of strengthening the communications, networks, and operations of Euro-BioImaging Nodes. FiBI was represented in these meetings by the Node Manager.
Euro-BioImaging Expert Groups
FiBI steering group members have regularly participated in Technology Expert Group and Communications Expert Group meetings of Euro-BioImaging, which aim to develop the imaging service provision, increase collaboration between the Nodes, and improve the community awareness of Euro-BioImaging.
Benchmarking
A benchmarking exercise of Flanders Bioimaging and the FiBI Node/Turku PET Centre took place in October 2021. Organisational model, funding base, added value of the infrastructure, and some best practices were shared with the Flemish infrastructure.
---
Outreach activities
Website and social media
FiBI Website https://eurobioimaging.fi/FiBI/ and Twitter account (@FibiNode) were launched in spring 2021. Several news pieces, promotional videos, interviews, and event ads have been published during the year.
FiBI Grand Opening Seminar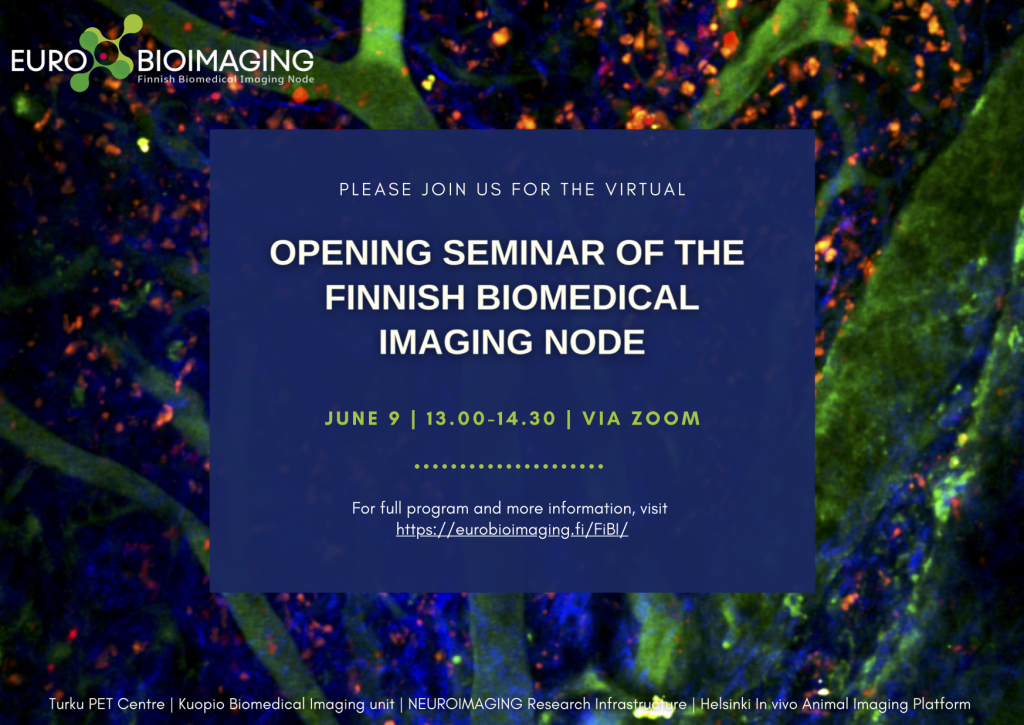 FiBI Grand Opening Seminar was organized virtually in June 9th. The seminar was open to the public and attracted about 70 imaging enthusiasts to participate. The main focus was to introduce the Node's people, operations, and facilities to the imaging community.
The event started with an opening presentation by Professor John Eriksson, Director General of Euro-BioImaging, which was followed by a virtual tour in the four Node sites where the multifaceted in vivo imaging opportunities and various applications were vividly introduced by the facility heads. The event culminated with a panel discussion where the key in vivo imaging experts from FiBI, Professor Juhani Knuuti (Turku PET Centre; University of Turku), Professor Riitta Salmelin (Aalto NeuroImaging; Aalto University), Professor Olli Gröhn (Kuopio Biomedical Imaging Unit; University of Eastern Finland), and Associate Professor Pipsa Saharinen (Helsinki In vivo Animal Imaging Platform; University of Helsinki) shared their perspectives on the importance of the Finnish Biomedical Imaging Node within the biomedical research landscape and described how to actually access the Node services. During the discussion the panelists visioned the future of biomedical imaging research and were excited about the new position Finland now has in the European imaging scene.
---
More information:
Tiina Saanijoki, Node Manager
---